A HISTORY OF THE
VICKERY BUILDING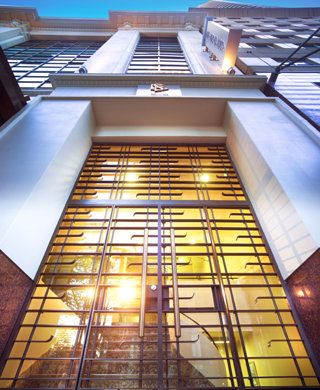 The heritage building which is today home of the Church of Scientology Sydney was originally constructed in 1908 for bootmaker Joseph Vickery & Co.
The Federation Free Classical style structure, then rising at 201 Castlereagh Street, bode well for the burgeoning industrial and warehouse precinct. In an article of the time, the Sydney Morning Herald proclaimed the Vickery building would "considerably improve this portion of the city." To this day, it remains a significant example of downtown Sydney's early 20th century character.
The edifice remained a fixture in the city's industrial sector until 1945, when the Second World War approached its end. It was then the Church of England National Emergency Fund (CENEF) acquired the building to establish a rehabilitation centre for returning service men and women. CENEF undertook a substantial conversion of the structure, which included transforming the façade to the Chicagoesque style featured in many contemporary buildings. As rehabilitation needs decreased, the facility further served as a Diocesan Youth Centre.
In 1961, the building was acquired by the Public Service Association of New South Wales for use as their corporate headquarters, housing facilities for social clubs along with meeting rooms, youth quarters and an auditorium.
Following acquisition in 1979 by the Church of Scientology, 201 Castlereagh entered city rosters as the Scientology House. The Church preserved the building and, in 2014, completed its full restoration and expansion, including the addition of two complete storeys.
The Church meticulously restored all historic elements to their original condition—from the brick pilasters and bronze-glazed glass curtain that distinguish its Castlereagh façade, to the terrazzo, brass and walnut features throughout its interiors.
Inaugurated as the new Church of Scientology Ideal Organisation in May 2014, this heritage building stands to serve communities of New South Wales today and through the century ahead.